In the chaos of our busy lives in this modern world with work, parenting, errands, and just everyday stresses, learning how to keep our home clean is probably our hardest lesson. The Bureau of Labor Statistics indicates that the average United States citizen will take one hour every day to tidy up around their house. That seems generous with everything else we have going on.
While it may sometimes feel impossible to handle all that you have on your plate, there are some quick and easy tips along with incredible products, visit sites like Sustainable Reviews, that will assist you in getting your home, and thereby your life in order. Let's dive in.
How To Keep Your House Clean And Orderly
The most important concept to remember when caring for your home is not to let it build up over a long period. You need to take a few moments each day, as suggested by the Bureau of Labor Statistics and handle a few tasks. Allowing a buildup of a couple of weeks or a month is going to make the work completely overwhelming, frustrating, and stressful. Doing every day will make you feel a sense of accomplishment.
This is obvious, but we are all guilty of this. Failing to put your things away where they belong is the main reason for the untidiness of the home. When you get up in the morning or come in the evening, go from room to room and put things where they go. Go out of your way to look in every nook and cranny to make sure that you find everything that's hiding and put it back in its home. It's easy to leave dishes drying in the sink, clothes lying on the bed, or shoes sitting by the front door. These piles are going to snowball over time in large messes. This is also going to save you time when you are running late and need to find something. It won't be a scavenger hunt. You'll be able to find it where it's supposed to be.
Split up the cleaning by room and by day. If you assign the cleaning to where you do one room every day this will allow you to accomplish something every day instead of having to tackle a large amount all at once. For instance, in the bathroom, you can take care of all the toothpaste mess, mirror stains, and grime in the shower during the week whereas leaving this for a one-time cleaning session can result in an entire day spent in this one room. 
In the bathroom each day, you should focus on the sink, shower, tub, and toilet. The mirror stains should be removed and the floors should be mopped. This can be done quickly after a shower while the hot water has loosened things up and the toothpaste is soft. Each person living in the home should make this a habit.
In the bedroom, the key is to store everything properly with clothes and any accessories which will give you a much cleaner personal space. If there is a lack of space, invest in containers or baskets that can fit under your bed. Have extra linens under your bed, so they can easily be changed while washing the current set. 
Always make sure that your bed is made every day. Fold each blanket and throw as you go and put clutter in its home. Dust the furniture and vacuum the floors, shaking the area rugs free of debris.
For the kitchen, dishes are always the biggest culprit with family members who tend to let dishes 'soak'. Take one side of the kitchen sink with some detergent and place dishes that accumulate in there throughout the day. This will lift most of the food and grease from the dish. When it's time to clean the dishes or use the dishwasher, they'll be clean.
After each meal, spend time cleaning the kitchen which will alleviate the need to deal with a large mess. Always make sure to have an empty sink, wipe down countertops, keep the pantry and fridge orderly, and use a steel cleaner on the appliances.
The living area is one of the most high-traffic areas of the home. It can quickly become consumed with a large array of everyday items. This is where guests will congregate. You want to be sure that everything has been put in its place so your living room makes a good impression on the people who visit.
Keep this room clear of all clutter. You should always keep any throws folded and the pillows fluffed. Dust your furniture and mantel. Vacuum regularly on the floors and couches especially if you have any pets. 
Have Faith In The Power Clean
Everyone has a problem going to sleep when they know messes are lurking. If you spend approximately 15 minutes on the power clean each evening, you can prevent the clutter from growing in your house. Involve all the family members and set a specific amount of time to focus on the priorities. Concentrate on the projects that have created the biggest mess which could be the bathroom, kitchen, or kids' rooms. Most importantly try to make it a fun event instead of a chore. Go to https://www.realsimple.com/home-organizing/cleaning/stay-clean-longer for tips on how to keep your house clean longer.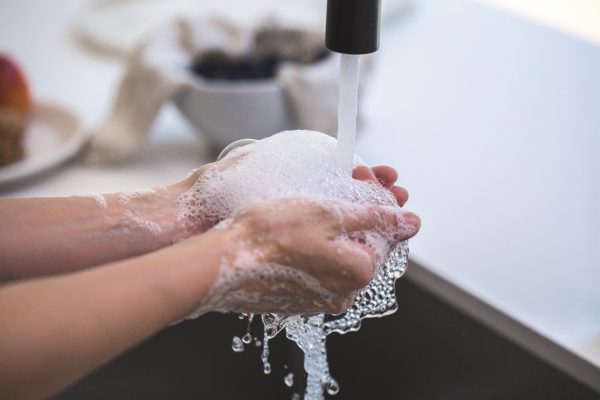 Mastering How To Keep A House Clean
Keeping a house clean doesn't have to be a mystery. With the effort put in each day, you can develop cleaning habits that will keep your home tidy all the time so the surprise will be on the guests who pop in unexpectedly.