When people consider renovating or remodeling their home they often pay attention to areas that are very exposed. Here, we are talking about parts such as the dining, living room, balcony…
The intent is so that the place looks appealing to everyone that sees it, especially visitors. This is good except that it should not affect the attention given to parts such as the kitchen and bathroom.
These parts are very important and serve purposes that are essential for our daily living. As a result, they should be given the right degree of attention.
You can do this by implementing ideas that can help you make these places look better, or hiring a contractor to make the change happen. If you will end up with the latter option (which is strongly recommended), you should ensure you are dealing with an expert.
For information on how to hire such a renovation expert, you can visit: https://www.diynetwork.com/how-to/rooms-and-spaces/kitchen/how-to-hire-a-kitchen-contractor
Whether you choose the DIY approach or get an expert to handle the kitchen and bathroom renovation for you, this article will prove helpful. This is because we will be sharing some ideas you can implement.
Benefits of Having a Bathroom and Kitchen Makeover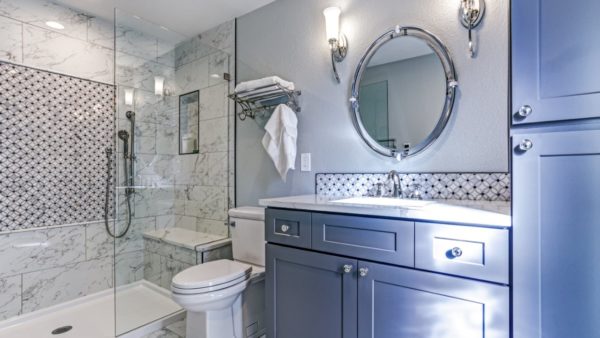 These are parts of your space that have a huge influence on your day and life at large. Given their importance, below are a few reasons why you should have a makeover carried out on these space:
Better Use of Your Space
A recent client of a contractor was asked why she did not buy into the idea of a kitchen and bathroom makeover a while ago. She stressed that these parts of her house have a small space and a makeover will just be unnecessary.
The truth is that any part of the home can benefit from a professional makeover regardless of the size. After this lady was convinced and work was done on these parts of her house, she was stunned.
In the same vein, you should make the most of your bathroom, kitchen, and every other part of your house by getting a makeover done.
Variety Is Exciting
Just maybe you fall into the category of those who think a makeover is not needed as long as the space looks good. First, you should understand that the term "good" is very relative and subject to trendy evaluation.
This is what we mean. A 3G network should not be considered bad as it can do quite a lot of things. However, it is below par in this day and age. The trend is now 4G and that will even change soon.
In the same vein, getting a makeover will help upgrade the look of your kitchen from that obsolete style and design. If you are interested in seeing how amazing a kitchen and bathroom that have gone through a makeover can look, you can watch this video.
Some Important Kitchen and Bathroom Makeover Ideas
Now you know the importance of having a makeover for these parts of the house. However, that is not enough. You equally need to know how to go about the entire process. For example, one of the major problems is the stuffy look of many kitchens and bathrooms.
On that note, below are some proven and helpful ideas to help you get more space:
Make Use of Space Efficient and Bespoke Cabinets
In both parts of the house, space is usually an issue. This is because there is just so much that can be stored. You should make use of narrow and custom-made cabinets to get as much free space as possible. This will go a long way in making the area well ventilated.
A Storage Ladder Is a Great Option
Also in the bid to get as much free space as possible, you can turn to a storage ladder. However, make sure that this storage item looks good and does not ruin the aesthetic look of your bathroom.
Get a Shelf Installed in a Strategic Location
You will be providing a better location for certain accessories by so doing. This will also reduce the number of things visibly seen and affecting the organized look of the place. The reason is that it will limit the number of things that take up floor space.
Under-Sink Shelf
This is also another option. It can even go a long way in making the sink look better and more functional. However, make certain that your sink is in perfect working condition if you must install such. For instance, it should not be vulnerable to leaks as that can damage the installed under-sink shelf.
Conclusion
We strongly recommend that you get a professional service to handle bathroom and kitchen makeovers. This also applies to renovations that you intend to implement on any other part of the house.
In getting the right people for the job, you should take note of your location. For instance, companies such as Carlanto Luxury Tiles in NI and a number of others are great options for residents in Northern Ireland and neighboring areas.
By sharing your design ideas with the right contractor and getting them to handle the project, you are more likely to get exactly what you pictured in your mind's eye. For this reason, you should seriously consider them.