For mom
Car seat CoPilot Automatic Alert System
The CoPilot is a seat belt clip sensor that attaches to the straps of your infant/car seat, transmitting a signal that triggers the alarm sound with the key fob (included), when separated by more than 10 feet.
The CoPilot purposely does not rely on a smartphone app cellular data coverage, BluetoothTM technology, or WiFi connectivity, indicating that it should work at all times.
Evolur Vogue Stroller.
A new mom (or any mom with a little one) can always use a compact, stylish and handy stroller like the Evolur Vogue Stroller. This lightweight stroller is part of the Evolur Stroller lineup and was designed with portability in mind.

With extendable sun canopy, adjustable seat, and the ability to recline almost fully, this stroller is a must-have that parents looking for an everyday stroller solution can really appreciate.
The Vogue Stroller has a one-hand fold system and weighs a little over 12 pounds thanks to its lightweight yet sturdy aluminum frame and has a nice sized storage basket.
Available in 3 different colors to match your style. The Evolur Vogue has a price tag of…
Razor EcoSmart
For Mom or anyone in the family 16 and up, go green with this awesome Razor EcoSmart Metro Electric Scooter. The 16″ pneumatic tube tires on spoked wheels make for a very comfortable ride!
The scooter is easy to set up and drive, and it features a standard replaceable bicycle seat that allows you to adjust it for a more personalized fit.
The EcoSmart Metro Electric Scooter can go up to 18 mph and can hold a charge for up to 40 minutes, making it very convenient and a nice alternative for short-distance errands and commutes.
Coral UV
UV device that can be used in a home and gives you a chemical-free disinfecting alternative that is great for moms and anyone looking for a healthier way to keep bacteria at bay.
Formé Shoe Shapers
Formé Shoe Shapers are a high heel's best friend. Yes, that's right, shoe shapers for high heels. I had no idea they existed, and they have changed the way I look at my heels.
While the Formé Shoe Shapers are specifically designed for high heels, they work in all your favorites. Flats, sandals, and booties, you are all welcome!
Specially designed by a woman who knows that feeling of "I love them but can't wear them," the shoe shaper's wings expand the toe box up to half a size. Your toes some deserve wiggle room.
For dad
Razor E Prime
The E Prime is a gunmetal grey, sleekly designed scooter that can go up to 15 mph (24 km/h) and run for about 30 minutes continuously. This easy-to-use the scooter is a kick-to-start, high-torque, brushless, hub-driven vehicle with a thumb-activated electric engine, variable-speeds, and paddle controls.
Beauty
What mom and every woman that has ever lived doesn't want younger-looking skin? Skincare Laser is designed to maintain and restore your skin in just two minutes a day!
This home laser program promises to deliver professional, painless, and hassle-free results. The NIRA Skincare Laser is FDA cleared as safe and effective.
Painless, easy to use and effective on all skin types. It has been extensively tested by dermatologists in multiple clinical studies and is supported by a full money-back guarantee!
RevAir
The easy way to describe this one-of-a-kind gadget is a vacuum for your hair. I know it sounds a bit bizarre, but that is technically what it does and even what it looks like. But the results and benefits are far from what a vacuum cleaner can do for your
The RevAir Reverse-Air Dryer was really easy to set up and is even easier to use on your hair.
MesoLyft
MesoLyft is a groundbreaking micro-needle skincare technology that combines a micro-needle tip with a cream pump, preparing the outermost layer of your skin for a more effective skincare application.
cariPRO™ Ultrasonic Electric Toothbrush
The cariPRO™ Ultrasonic Electric Toothbrush delivers 40,000 vibrations per minute, dynamic cleaning action, and has five—that is right, five—brush modes (clean, white, massage, gum care, and sensitive).
The battery lasts 30 days when fully charged, and the brush has a sleek and slim ergonomic design with a graphite gray soft-touch grip. It is also waterproof so you can safely use it in the shower or bath.
For the travel bug
Designed for ease of use and comfort, the bag features a zip-around dual-compartment design for maximum organization and easy access to everything you need while en route. It's made with durable, high-quality materials and is carry-on approved.
The Pakt One is an approved carry-on size for all major airlines. You can easily fit it under airplane seats and in overhead compartments! Because the bag has a soft construction, you can slide it into spaces that other bags wouldn't fit.
The bag is 20″ × 10″ × 11″ (50.8 cm × 25.4 cm × 27.9 cm), with an empty weight of 3.25 lbs. It has a 35-liter capacity and folds very small, which makes storing this bag really easy when not in use. That is right. This bag will take up very little closet space when stowed away.
Skyroam Solis
Skyroam Solis is a compact, fast portable WiFi and power charging device, for international travel that allows you to charge your devices on-the-go with an embedded 6000 mAh power bank and USB-C connection which makes this portable WiFi device, very handy and convenient.
A portable mouse that fits your busy lifestyle and can easily be taken along wherever life takes you. The small modern design with an organic shape fits in your pocket, bag, or pretty much anywhere. Better yet, it feels great in your hand. The silent clicking and scrolling are the cherry on top for an easy workflow without disturbing anyone around you.
Tech gift
LuguLake Handheld Multi-Function Bluetooth Speaker PA System
Retro look Bluetooth speaker with Power Bass, FM Radio, Mic Input, Karaoke, USB/TF Readers, TWS, Remote Control, and High Battery Capacity Boombox.
Brings back the look with the modern world capability with bronze-colored metal details that includes a convenient anti-skid handle, knobs, clear LCD Display, 12 v /4 ah high capacity Built-in Rechargeable for hours of continuous use.
Featuring 10-in-1 Multi-Function: FM Radio with antenna, Microphone Inputs, Original/Accompany, Remote Control, USB Flash Drive, TF Memory Card Readers, Bluetooth, TWS, EQ, Record and Play through the Speaker System.
The LuguLake Bluetooth Speaker has two speakers pairing via Bluetooth to form a wireless left channel and right channel system to deliver true stereo sound effects.
This is a nice looking unit with quality sound delivery at a very affordable price.
Available on Amazon.
For the kids
Gator Golf
Mini golf anyone?
Your kids can now enjoy all the fun of mini-golf from the comfort of home with Gator Golf.
Quick set up and battery-free game for kids ages 3 and up.
The game which can be played by 2-4 players is a lot of fun and keeps your kids active and moving.
This fun loaded game helps your kids with hand-eye coordination.
Get the ball into the gator's mouth and into his tail…The gator's tail will flick the ball back to you to keep on playing!
Great for indoor play, play dates and to keep your kids day screen-free!
Doggie Doo
Who would have thought that picking up doggie's doo would be fun? Well, it is, at least the toy version of it!
Meant for kids 4 and up, the game can be played by 2-4 players and it's a silly fun game that does not require batteries or charging.
The kids need to feed the doggie, squeeze the leash, and after he makes his "gassy sounds" until the doo comes out… The player who cleaned up the doo will get a fart token.
The player who has the most tokens at the end of the game wins. Be prepared to see lots of fun and kids will be laughing and the doggies sound the whole game!
Ages 4 and up
Mochi -LEGO-Compatible, Screenless Coding for Ages 3-6
Mochi teaches children coding in a playful, hands-on way as they explore the universe and learn colors, numbers, letters, basic words and more!
Using songs, sounds, dance, music, and words, Mochi will navigate your
child through endless adventures as they explore the wonderful world of coding with a great introduction to the coding world. Mochi comes with several add on's that can be purchased separately to expand the experience and open doors to new adventures.
Klikbots
Unleash their creative power with the KlikBots collectible action figures line of multi-award-winning toys that kids can use to create their very own stop-motion videos!
The Klikbots feature interchangeable pieces, articulating limbs, and action accessories, there are no limits to what kids can do with their KlikBots.
Fish for fish
A super fun game in which campers ( players), are in survival mode and their only source of food is fish. Players need to assemble their spears as fast as they can and start fishing!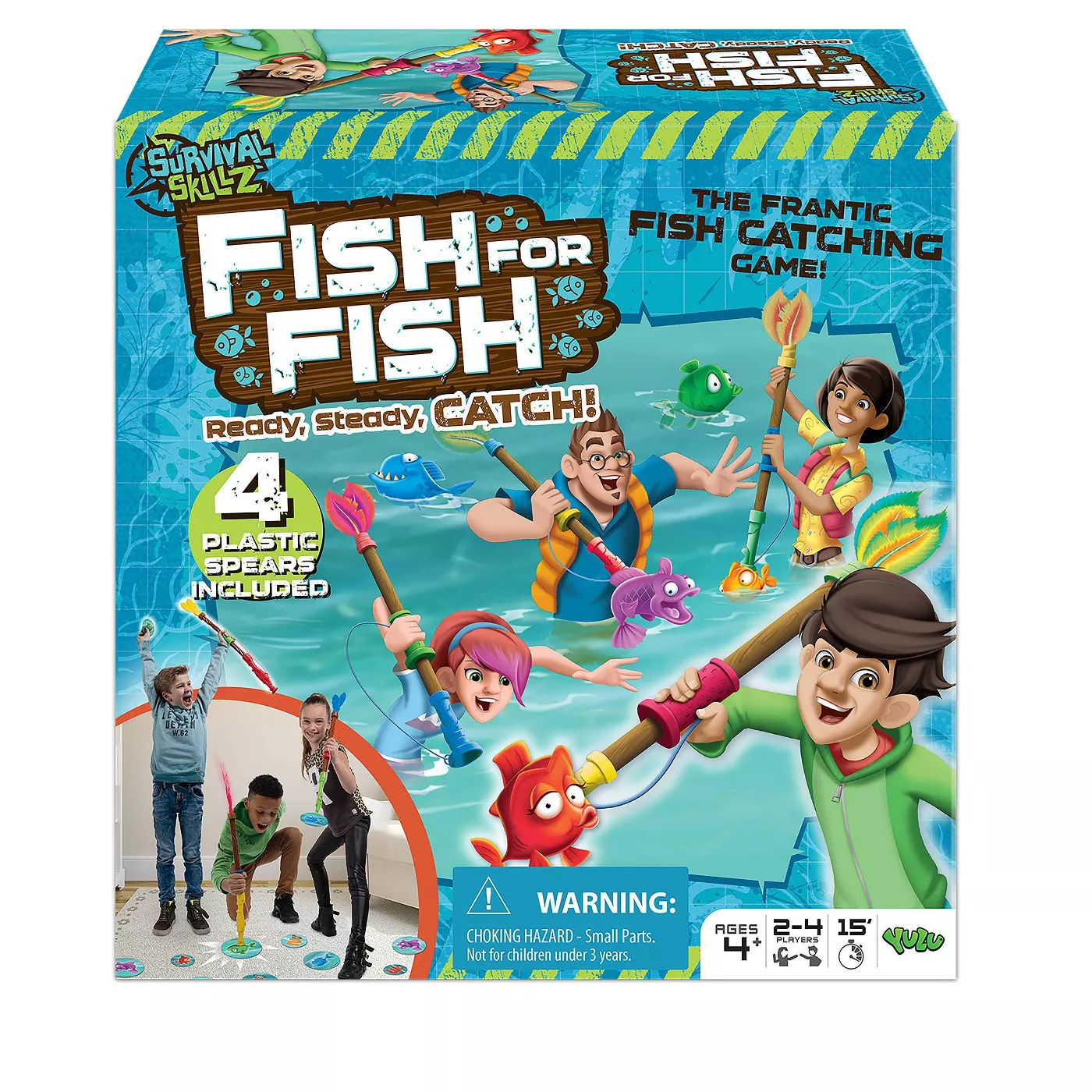 Remember, the whole camp depends on you and your fishing skills! The player with the most fish wins the game and saves the day.
Ages 4 and up.
King of the Ring
Another super fun game by Yulu, in this game which is intended for 2- 4 players, you need to race your sumo wrestler to the top of the sumo ring to become King of the Ring!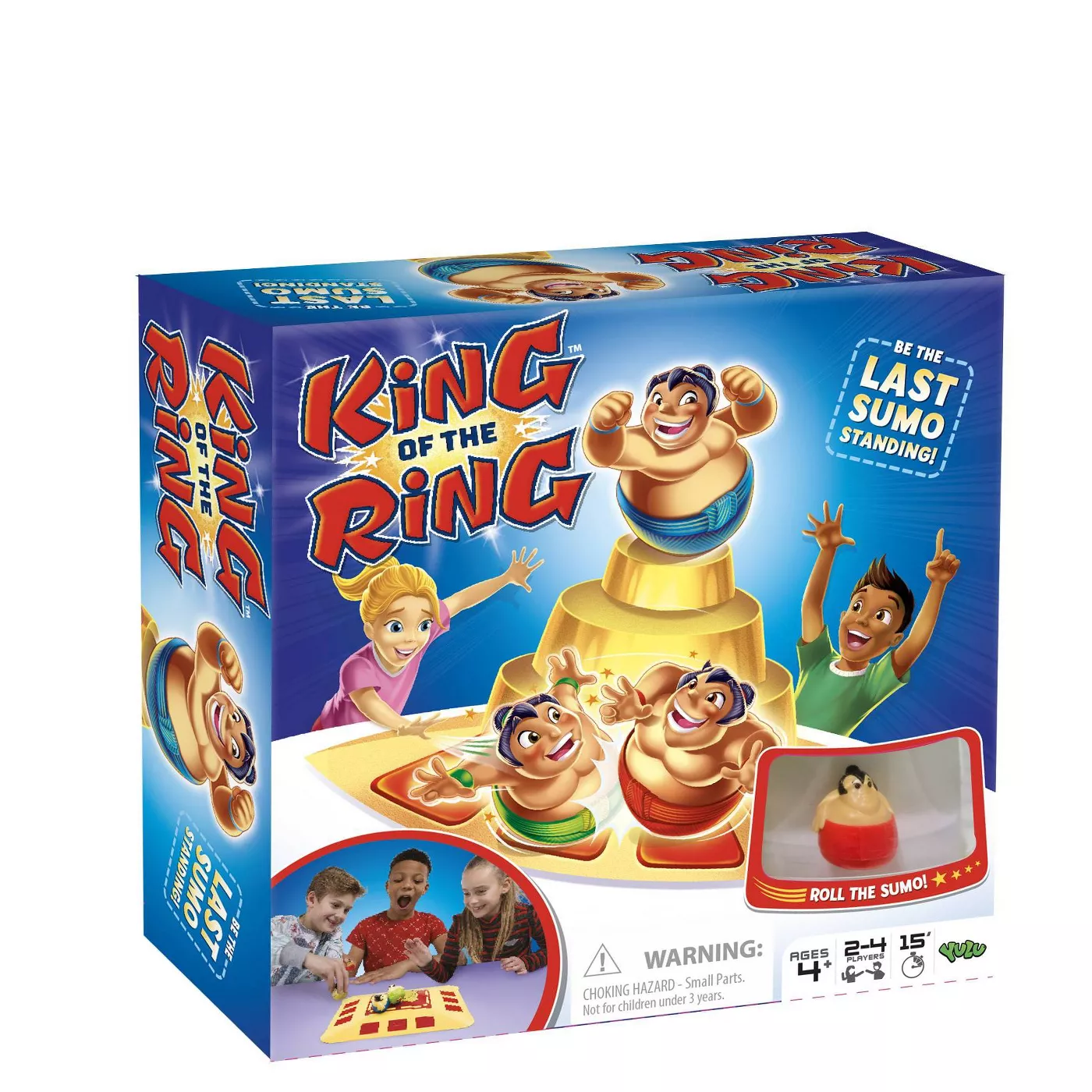 To win the game, you need to compete with your opponents by rolling your sumo wrestler to the top of the sumo ring and try to knock the other sumo characters out of the ring. The player whose sumo is elevated up on the podium when time runs out wins and is crowned King of the Ring!
Ages 4 and up
Monkey Business Sports FoamStrike X3 Slingshot for Kids.
A safe version of the slingshot- yes, the Foamstrike action uses only soft foam balls, instead of hard objects to provide the kids with lots of fun, safe playtime.
Add some outdoor playtime with this screen-free, battery-free game that will have them running and moving while shooting their foam balls.
Great for team playing and to help the kids to learn dexterity, and motor skills.
Sages 8 and up
SkyRocket Mini – 4 Color Sets
Great stocking stuffer, these little rockets come in packs of 1,4 or 6.
The mini rockets can fly over 250 feet and provide a fun game for Christmas day.
Price starts at $6 for the one rocket pack and goes to $29.99 for the 6 rockets pack.
These slingshot style rockets are meant for kids ages 8 and up.
Slam Bams Minis
Wacky bouncy fun with these unique characters who always rock right back to an upright position and have bright colored hair and funny faces.
Great stocking stuffers for kids ages
Adventure Force Max Morpher
For kids ages 8 and up, this transforming dart blaster that is 4 dart blasters in 1 by simply flipping and moving the barrel and stock positions. With this blaster, you can create handheld pistols or long-range rifles that will shoot darts up to 100 feet.
This Item comes with dart blaster and 10 long-distance darts that are compatible with all Adventure Force Blasters and most standard NERF blasters. All are gentle enough for kids aged 8 and up. Simple and easy to use transforming 4 in 1 dart blaster
Create a handheld dart blaster pistol or dart blaster long-range rifle with a flip of the barrel or of the stock
For the book lover
The Vinyl Frontier
Have you ever made a mixtape for someone? You know a tape containing all your favorite songs. Songs that you feel will deliver a clear message to the recipient?
The Vinyl Frontier nonfiction book by Jonathan Scott, a writer, record collector, and astronomy enthusiast, is the fascinating story behind the mission, music, and message of NASA's Voyager Golden Record.
NASA's version of a mix tape -You would remember that famous humanity's message to the stars.
This is a 90-minute, multi-media record that contains an assortment of music from well-known artists such as Bach, Beethoven, Chuck Berry, and Blind Willie Johnson, along with more than 100 photographs and diagrams, greetings in different languages and music from remote cultures from around the world, and of course, a message of peace from President Jimmy Carter!
The Vinyl Frontier gives you the whole story of the Golden Record and shares fascinating insights behind the varied songs, sounds, and pictures that were included in the record.
It also talks about the myth that the Beatles were left off of the record because of copyright reasons.
It also includes U.S. president Jimmy Carter's role in the record, as well as many other fascinating facts that have never been reported before.
The book is an engaging combination of science and art, and a testament to the genius of its driving force, the great polymath Carl Sagan.
The book comes in a hardcover format and has a tag price of $28
The Cycling mind
Book by y Dr. Ruth Anderson British Cycling's lead psychologist and currently Head of Performance Psychology for the Australian Cycling team.
This book is a must-have guidebook for all cyclists, athletes, and outdoor recreation enthusiasts.
THE CYCLING MIND: The Psychological Skills for Peak Performance on the Bike—and in Life – IN this book, Dr. Ruth Anderson, explores the importance of psychology in order to achieve peak cycling performance.
THE CYCLING MIND takes readers through the key phases of an athlete's path— going from training through competition.
In the book, Dr . Anderson provides guidelines for developing the psychological skills needed to compete using real-life examples from elite competitions to reveal the strategies used to win Olympic gold.
A great addition to any cyclist library, the book has a price tag of $27 and comes in a softcover.
Stocking Stuffers for the Whole Family.

Try the limited-edition Quadratini from Loacker.
Loacker is a delicious wafer brand that offers you a nice selection of Italian-flavored Quadratinis. They make a great gift for anyone with a sweet tooth in the family, kids and adults alike.
Loacker's limited-edition Italian blend flavored Quadratinis includes
• Espresso
• Tiramisù
• Cappuccino
Each has four layers of super smooth cream filling held by five light, crispy wafers.
The wafers are cut into small square pieces, which makes then the perfect bite-sized treat for the holidays.
Not into the Italian flavor selection? There are other flavors to try, including a personal favorite, hazelnut. Yum!